We've all known about the obesity epidemic in America for a while, but we still haven't solved it. It's a tough issue! In fact, for children especially, the problem is getting worse. NBC News reports that almost half of teens aged 16 to 19 are obese, as are 15 percent of children aged 2 to 5. More than a quarter of that age group is overweight.
There are plenty of causes, but one stands out as a particularly modern problem: technology use. In a study from Gallup, 62 percent of parents said they'd prefer that their children play outside in their free time. However, despite the fact that "play on electronic devices" and "watch media" were the least preferable options to parents, they reported that their kids spent 18.6 hours a week on screen-based play, a full eight hours more than they spent on outside play.
Screen-based play is seldom active. (It's hard to run around when you're looking at a phone, right?) And this lack of exercise can lead to obesity and even hinder cognitive development. Fortunately, there's another group of adults who can help: educators.
Children spend at least half of their day in school, so teachers, administrators, and support staff play a big role in forming their ideas about fitness. And with our expertise at grabbing attention and inspiring action, education marketers have a great opportunity to help schools fight obesity. Want to help kids stay active? Then get the ol' learning cap on yourself. Here are a few ways to work with educators and spark change:
Develop in-class resources
Developing lists, visuals, and charts is a great way for us to lend our expertise to educators. A printable "Stay Fit Over Summer" chart is one example. Students mark down every time they spend 30 minutes being active, and at the end of the summer, they turn it in for a certificate or a prize — a real prize, not a prize like "the satisfaction of being healthy."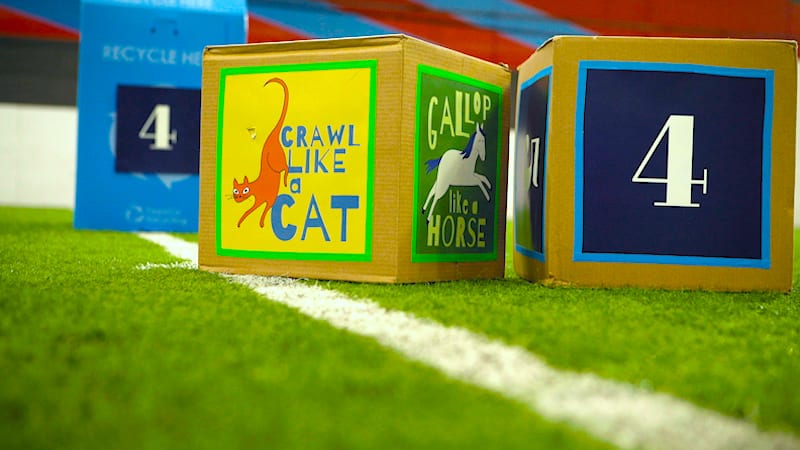 For in-class activities, we can use our creative skills to develop printable games like this giant dice game developed by WeAreTeachers. If you're a video marketer, you can also create videos like those from GoNoodle, a company that encourages students to get up and move around with interactive video content. The best part? The kids still get a taste of that precious screen time, but they're not sitting still while doing it.
Help educators promote healthy living online
Social media happens to be incredibly popular among educators, which is great news for education marketers — nobody masters social media like us.
Browse hashtags like #PEchat, #elemPE, #PhysEd, #PEgeeks, and #HealthEd to get a sense of the content that's already encouraging activity in school. If you're so inclined, post about your own resources with those hashtags to connect with influencers and teachers.
Social contests could also spark some engagement. Post an Instagram image with a question like "How do you stay active?" and give out a $25 gift card to a sporting goods store to one lucky student commenter. YouTube is another place to connect online. Fun videos like the "Move Your Mind Rap" (one of my personal favorites) can get students engaged both in class and in the comment section.
Assemble brand ambassadors
The best advertising, of course, is still word of mouth, and we can help schools cultivate this buzz. Connect with educators who can share your health-focused resources and products with their colleagues. Teachers trust recommendations from others in their peer group.
Apple, Google, and Microsoft have programs for education-focused brand ambassadors, so check them out and find ways to adapt the plans to foster healthy lifestyle ambassadors. You'll develop relationships with education leaders while helping students get in shape.
Host a healthy event
Kids and educators both love any excuse for a fun event — and, to be honest, so do we. So get your experiential marketing hat on, partner with a school, and organize a walk or a field day. Even students who don't think of themselves as athletes can enjoy a fun activity with their friends.
With their ability to organize and create clean, attractive promotional materials, marketers can make hosting these events easy on educators. Sign-up forms, participation certificates, event signs, and other necessary tools can even be bundled into a downloadable kit for any school to use.
Give away a prize package
Free education materials? What teacher would turn that down? We can appeal to schools with contests featuring prize packages that include gym equipment and other fun, health-themed goodies.
Fit4Schools, a project put together by Sanford Health, asked teachers to make the commitment to "do one healthy thing" with their students. More than 30,000 teachers responded, and the winners received a variety of prize packages that encouraged fitness in the classroom. Everyone wins: The school doesn't have to pay for health equipment, and we generate plenty of new leads among educators who might be interested in the product or service down the road.
Parents and educators play the biggest formative roles in children's lives, but other groups can help, too. Corporations and nonprofits have a lot to offer to schools that just want to make a positive impact on students' health. It's not only good business, but it's also good for the next generation.